by Mike Maihack
Scholastic, 2014
review copy purchased for my classroom library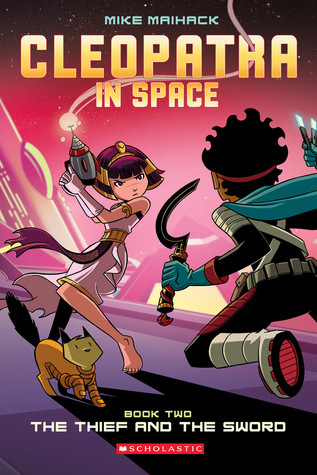 by Mike Maihack
Scholastic, 2015
review copy purchased for my classroom library
School's out -- let #bookaday begin! And what better way to begin than with a fun new (to me) graphic novel series!
Columbus College of Art and Design grad Mike Maihack has plucked Cleopatra out of history and sent her to the future as the hero prophesied to save the galaxy from the evil Xaius Octavian who destroys civilizations by deleting all their electronic data and simultaneously stealing it for himself and his uses.
Maihack's action and battle scenes are spectacular -- very cinematic. He is masterful at using flashbacks and flashforwards. At the end of the first book, her school/training academy is planning a winter dance, and at the beginning of the second book, the dance is in full swing. The second book ends with a more dramatic cliffhanger (think massive fleet evil army spaceships in close pursuit of the tiny spaceship our main characters are on) that will leave readers anxious for the next book in the series!