Thank you, Mandy, for the picture!
Yesterday started with a blogger breakfast/bookstore fest and ended on the couch, burning through the last chapters of Shannon Hale's
Dangerous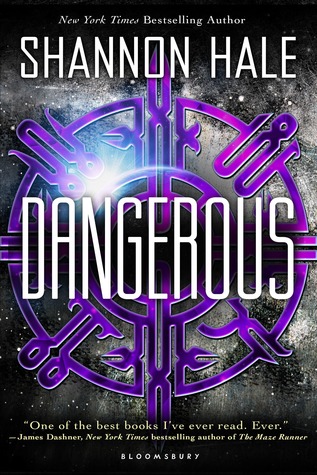 Without setting out to read a book for the
WeNeedDiverseBooks
campaign, I realized that this book is a perfect fit. Hale's main character was born without her right forearm, but this is not a book about a girl with a disability. It's about a girl who saves the world from an alien invasion.
The last time I checked in with Shannon Hale, she was writing about princesses (who were also all strong girl characters, regardless of their royalty), so this switch to seriously science fiction was quite a shift. But a good storyteller is a good storyteller, and strong characters are strong, whether or not they are missing limbs.
There's too much teen romance for this to be a book I would put in my 5th grade classroom library, but I would definitely recommend it to all of my students (especially the girls) who have read The Hunger Games.
One of my favorite things about this book was the literary references. In the acknowledgements, Hale credits her high school English teachers, and notes that she has quoted Poe, Shakespeare, Keats, Yeats, and Frost.
On page 56, Maisie goes to space for the first time and tries to describe what it's like to look back at the Earth.
"I wish I could explain better. NASA's next urgent mission should be to send good poets into space so they can describe what it's really like."