Now that students are bringing back all the books they've had checked out the past few months, I am faced with the reality that my bookshelves are officially At Capacity, and so is my classroom when it comes to the number of bookshelves in the room. In order for there to be space for all my books, some weeding is going to have to take place. This also means that in order for me to add new books, I will have to make room by removing the books no one has been reading. (Which is SO hard, because for each and every book I remove, I can imagine a possible future reader who will love that book!)
That said, here are three new/newer middle grade novels that are ensured a place on the shelves in my classroom.
Counting Thyme
by Melanie Conklin
G.P. Putnam's Sons Books for Young Readers, 2016
Thyme and her family move from California to New York City in order for her little brother to take part in a cancer drug clinical trial. All Thyme wants is to do enough chores to earn the time she needs to go back and spend her shared birthday with her best friend Shani.

Thyme gradually adjusts to life in the city (including a small apartment rather than a house with a yard), her new school and friends, the housekeeper, Mrs. Ravelli, and the quirky neighbor, Mr. Lipinski, and is able to look beyond her own life to realize the complexity of others' lives.

It's been a long time since characters and a story grabbed me like this and wouldn't let me go until I finished the book!


by Shelley Pearsall
Knopf Books for Young Readers, 2015
This is another book that grabbed me at the first page and wouldn't let me go until I finished it! Karen Terlecky's review on GoodReads sums up the plot: "This was a cross between Jeremy Fink and the Meaning of Life and Touching Spirit Bear." The author's notes at the end gave an interesting view of her process -- where she got the idea for the story and how much of the story is truth vs. imagination. It's been since The Hired Girl and The Thing About Jellyfish that I copied so many great quotes into my notebook.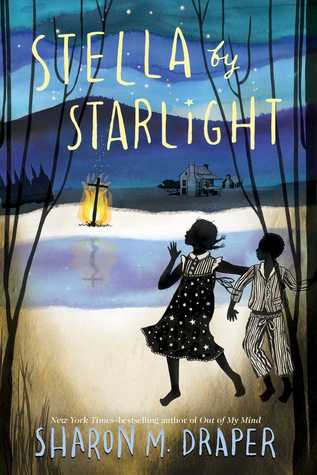 by Sharon Draper
Atheneum Books for Young Readers, 2015

Woven through this unflinching look at racial discrimination in the Jim Crow south during the Depression, is the story of the awakening of a young writer to her craft.

From the KKK, to separate and definitely unequal schools, to blatant voting discrimination, Sharon Draper tells it like it was. Through it all, Stella, her family, and her community remain positive and hopeful, working for a fair and just future which today remains elusive but just as worth fighting for now as it was then. This is an important book for read aloud and discussion, either in racially diverse or in racially similar classrooms.