I believe in the power of series books.
I believe in the power of graphic novels.
Here are three next-in-the-series graphic novels that are on my TBR pile for the first week of June:
Nathan Hale's Hazardous Tales: Alamo All-Stars
by Nathan Hale
Amulet Books, 2016
It was fun to sit and listen to a group of girls talk about the merits of
this series
last week. They are good readers and detail-oriented, so the amount of smaller-font text doesn't put them off. They each have a different favorite in the series, but none of them has read Donner Dinner Party yet (my personal favorite). They talked about how this is the kind of series where it's important to read the first one first so that you understand why Nathan Hale (the historic character) is telling all these stories (to delay his hanging). After that, you can read them in any order.
Thank you, Nathan Hale (the author) for making history fun and accessible!
by Judd Winick
Random House Books for Young Readers, 2016
This is book two. The first book in this series ended on such (SUCH) a cliffhanger that I can't believe I'm not reading this book right now. (And as I typed that, I just guilted myself into taking this copy to school for the last 8 days so that every child who groaned audibly upon finishing it will be able to read book two before going on to middle school.)

HiLo is my new favorite superhero. Read this series; he'll be your favorite, too!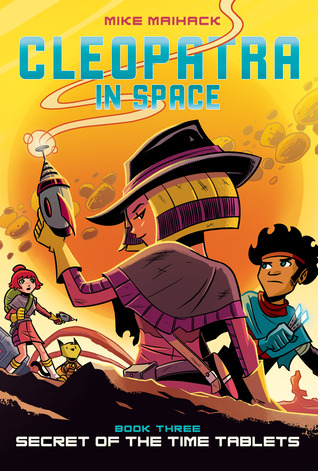 by Mike Maihack
Scholastic GRAPHIX, 2016
Don't get me wrong. There's a place for
Babysitters' Club
. I'm just loving these strong, capable girl sheroes.