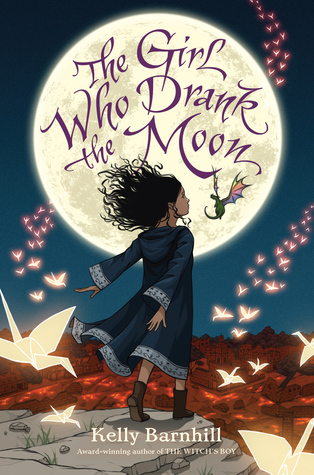 Did you ever love a book so much that you deliberately slowed down your reading for the last third so you wouldn't have to come to the final page?
That's why I'm blogging instead of reading -- I'm desperate to find out what happens, desperate to see how Kelly Barnhill completes her masterful weaving of story strands, hopeful that the small stories will be strong enough to heal the big story.
I'm in love with the characters -- the lumpy, multi-armed monster-poet; the adorable little dragon whose sense of self is starting to match his reality; the "mad woman" in the tower ("hope is the thing with feathers..."); the witch who hides in plain sight for the first half of the book, while the one called "witch" clearly isn't. And of course, the girl who drank the moon.
I thought about her on my early morning walk today. There were puddles of moonlight on the street and sidewalks. The moonlight pouring down on me felt substantial enough to catch on my fingers and drink...almost.
While I walked, I thought of the dark cloud that's looming over our country. I'll try to remember this story's insistence on the power of hope. No matter how much darkness there is, hope has the power of light to overcome it.
Thank you, Kelly Barnhill, for this beautiful story. Thank you, Franki, for insisting I read it. I'm not sure when I'll finish the last 30 pages, but I know they'll be magical.
The Girl Who Drank the Moon
by Kelly Barnhill
Algonquin Young Readers, August 2016