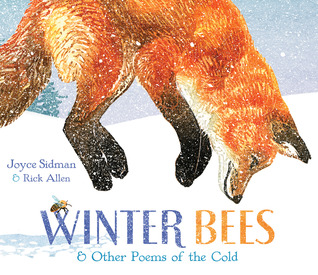 Winter Bees: & Other Poems of the Cold
by Joyce Sidman
illustrated by Rick Allen
HMH Books for Young Readers, 2014
As I noted yesterday
, J. Patrick Lewis' anthology title says it all: "Everything is a Poem." Today we'll look at science in poetry. Upcoming posts include nature, history, biography and imagination in poetry.
Joyce Sidman's Winter Bees is the perfect book to usher in this year's first Polar Vortex. Every day, compliments of the TV weather reporters, we are getting a science lesson in meteorology. Sidman's book will answer questions about how animals survive in the cold.
Each of the dozen poems, most about animals ranging in size from moose to springtail, but also including trees and snowflakes, is accompanied by a short sidebar of scientific information that expands the scope of this book to topics such as migration, hibernation, and the shape of water molecules, and introduces such delicious vocabulary as brumate, ectothermic, furcula, and subnivean.
The illustrations are simply gorgeous. You will want to spend as much time with them as you do savoring Joyce's poems. Watch out for that fox -- s/he wanders throughout the book!
As you and your students explore this book and Joyce's others, don't forget to check out
Joyce's website
. It is a treasure-trove for readers, writers, and dog lovers.
Keri has the Poetry Friday roundup this week at
Keri Recommends
.