Go to
Teach Mentor Texts
or
Unleashing Readers
for the It's Monday! What Are You Reading? Round-Up!
ADULT
Wicked Appetite
by Janet Evanovich
I'm not a mystery reader. Never have been, probably never will be. When a student gave me this book (and the next two on CD) for an end-of-year present, my first impulse was to take the gift receipts and run for B/N to make an exchange. But I gave myself a stern talking-to about reading outside my comfort zone, and I read this book, including whole sections aloud to AJ as we guffawed over the bad writing. I was going to listen to the two CDs on the way to and from the Choice Literacy writing retreat, but I decided I better have more literary writing in my brain before I wrote for 2 days!
The Son
by Philipp Meyer
The Goodreads blurb describes this book as "...an epic, multigenerational saga of power, blood, and land that follows the rise of one unforgettable Texas family from the Comanche raids of the 1800s to the border raids of the early 1900s to the oil booms of the 20th century." I listened to it two summers ago, and for the life of me, I can't remember why I only gave it two stars! I liked it well enough to suggest it to my book club, and when I ran out of printed books while at Mom's, I found it in my Kindle archives (maybe it was a Kindle Daily Deal?). Re-reading it with my eyes rather than my ears has been a fabulous experiences. I can flip forward and back, double check the family tree, look up interesting words, and focus most of my attention on the storyline of Eli, in my opinion, the most compelling character. I'm not quite finished with it, and I love having book amnesia -- I remember there's a surprise at the ending, but not exactly what!
YA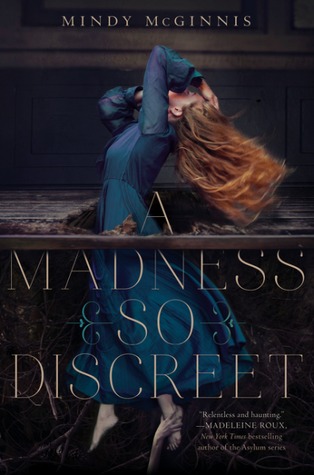 A Madness So Discreet
by Mindy McGinnis
Ok, I lied. I like SOME mysteries. Maybe not mystery SERIES. This book combines fascinating settings -- insane asylums in Boston and Ohio in the late 1800's -- with a doctor who is pioneering the science of criminal profiling. The main character, Grace, becomes his assistant from within the safety of the asylum. The myriad reasons people (women especially) were committed as insane is thought-provoking and disturbing.
MIDDLE GRADE
The Seventh Wish
by Kate Messner
This book is a fascinating combination of fantasy and grim reality. Yes, there is a wish-granting fish and the main character Charlie makes every possible blunder of wishing known to the genre. But things get serious when her big sister is institutionalized for heroin addiction. This is an important book that shows how addiction impacts an entire family and is a lifelong struggle, not something with an easy recovery.
Save Me a Seat
by Sarah Weeks and Gita Varadarajan
Here's another book with a light-hearted tone, but a serious message. This is a book about how hard it is to be different. It is a book about bullying. Joe has learning challenges and spends time each day in the resource center. Ravi has just moved to the US from India and no one can understand his "perfect" English. Dillon is a kleptomaniac bully who preys on the weaknesses of others. Luckily, by the end of the book, Joe and Ravi realize that they make a perfect team...and they put Dillon in his place! I love how the book is written in both Joe and Ravi's points of view, and the dual glossary at the end of the book.
MY TBR PILE FOR THE COMING WEEK
I'm late, but I'm going to join #cyberPD!
Have arc, will share...